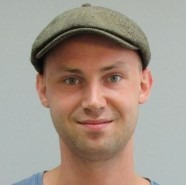 Host: Weizmann Institute, Israel
Supervisors: Prof. Sarel Fleishman (WI), Khersonsky (WI)
ESR 1: Design of nanobodies with tunable target affinities
"Our work as scientists is directed towards future innovations and technologies. By doing so, we have the chance to enable a better future for all living being on this planet."

The Fleishman lab is developing methods for designing large repertoires of nanobodies that target specific sites of interest on target molecules. Starting from a known nanobody (or conventional antibody), we will design, synthesise and screen millions of nanobodies that are targeted to the site of interest. We will also develop methods to tune the design's affinity for the antigen to the level that would provide the greatest output signal in a biosensor.
Computational and experimental optimization of biocatalysts to enable more sustainable technologies for biofuel production.
I am interested in understanding the molecular structures and mechanisms that are organising living matter.
2014-2017, Bachelor in Biochemistry, Julius-Maximilians University Würzburg
2017-2021, Master in Biochemistry, Julius-Maximilians University Würzburg